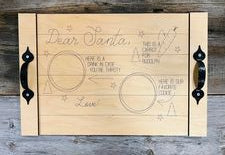 Your Children would love to have this tray to put their Cookies and Milk out for Santa & a carrot for Rudolph on Christmas eve. With this Purchase it includes TWO names with the option of adding additional names. 
Dimentions: 16" X 10.5" with a light stain & sealed with food grade bee's wax. 
* Due to the handmade nature of this product the end product may have a slight variation from the image above. 

PICK-UP DATE : December 1st.